Build a Better Outdoors with the Leading Landscape Contractors in Greater Victoria, British Columbia
Put Our Passion and Sustainable Solutions to Work for You
Since our founding in 2003, Garden City Tree & Landscape LTD has been committed to creating beautiful landscapes with methods and materials that contribute to the long-term health of our environment. We're passionate about our local outdoor areas and our urban forests, and we're proud of the work we do in ensuring our area's natural beauty will continue to thrive in the coming years.
Our sustainable solutions begin with our organic repurposed materials, which we make in-house from local yard and tree waste in an effort to reduce our ecological footprint. Our certified arborists also stay up to date on all of our local tree regulations, saving you from costly penalties down the line.
At Garden City Tree & Landscape LTD, we have our own nursery and own all of the necessary equipment for our projects, allowing us to provide you with a seamless and efficient landscaping experience. Our comprehensive in-house expertise also saves you the hassle of working with multiple landscape contractors. No matter what your outdoor goals may be, our team is here to help bring them to life. Contact our landscape contractors today to begin transforming your property.
Landscape Contractors in Greater Victoria
From landscape design to bulk supplies to tree services, Garden City Tree & Landscape LTD is your single solution for all your landscape needs. Whatever your project requires, you can depend on our team for quality work that will provide you with a vibrant and healthy outdoors for years to come. Explore the full range of our offerings at our Services page.
Landscape Design. We create beautiful spaces that work with your property's natural features to meet both your aesthetic and functional goals. Explore our landscape design to discover more about our process.
Outdoor Living From outdoor kitchens to fire pits and more, our team can add to your home's usable space with outdoor living additions. View our outdoor living page to learn more about your possible options.
Tree Services. As certified arborists, we have the know-how and equipment to take care of your trees from root to crown. For tree maintenance that puts our urban forests first and complies with all local regulations, check out our tree services.
Meet the Owners of Garden City Tree & Landscape LTD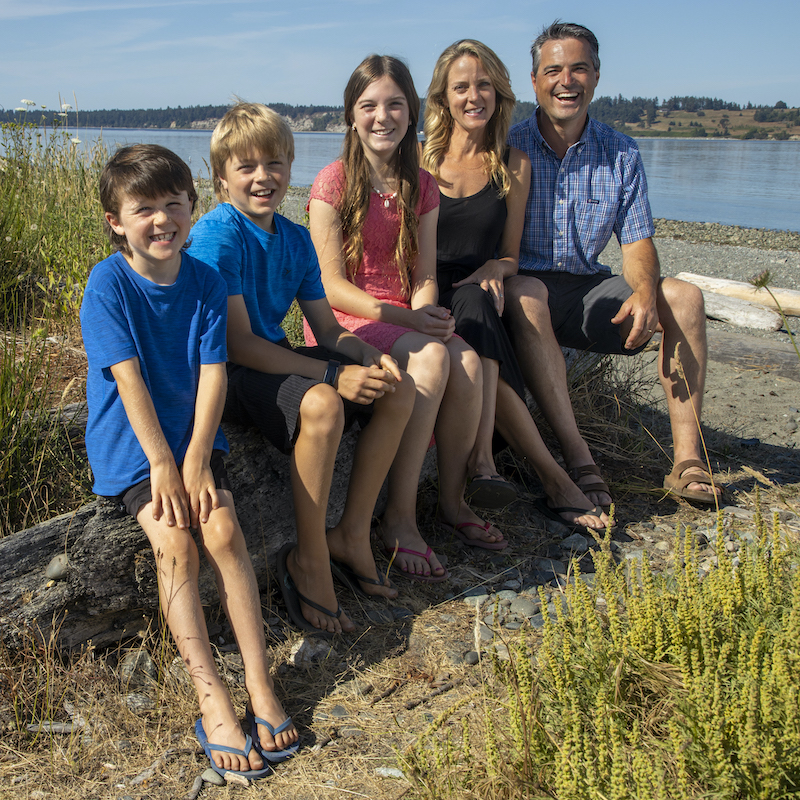 For Chris Stansfield, working with the outdoors is in his blood. He combines a long heritage of northern Italian farmers with a degree from the Malaspina University-College Horticulture program. His career in landscaping began nearly two decades ago with a tree company in Victoria. In 2003, he founded Garden City Tree & Landscape LTD, where he specializes today in the creative aspects of our landscaping services. With his wife Ronda, he is the proud father of three beautiful children.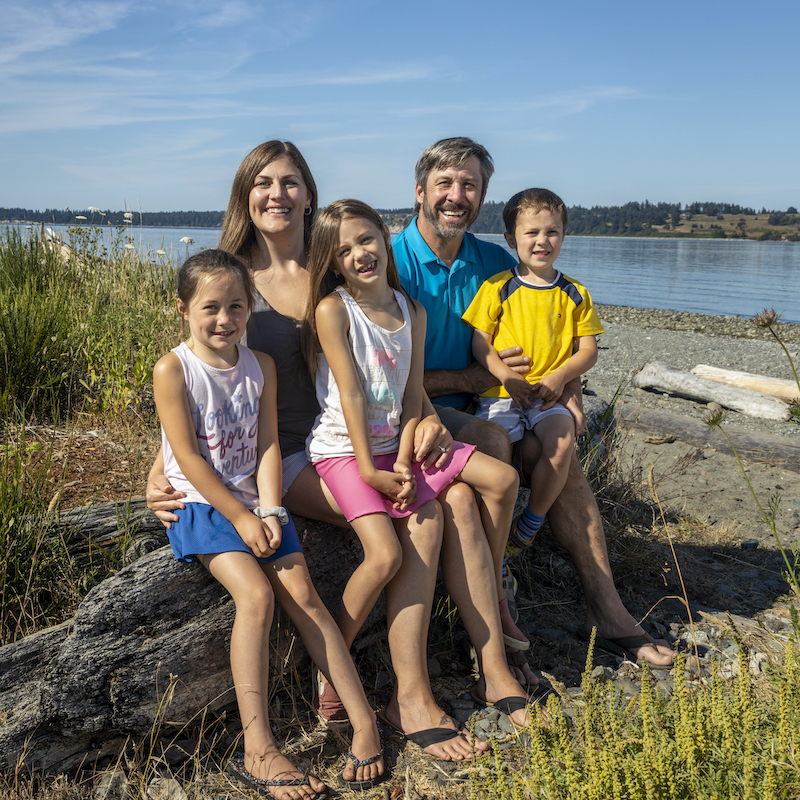 Colin Eaton grew up loving the outdoors in the Rossland Ski country of West Kootenay. As a certified Organic Land Care Professional, he also holds certifications in Ecological Landscape Design, Organic Turf Management, and Organic Soil Management. In addition to his landscape expertise, his strong business background helps to keep our team's projects running in a structured, efficient, and professional manner. Colin has lived on the Island for more than twenty years.  With his wife Rachel, he is the proud father of three children.
Taewyn Cleugh is a born and raised Victoria woman who spent her childhood and youth in the beautiful Island outdoors. She learned her strong work ethic from her immigrant mother who single parented her brother, Stephen and herself. She learned her sales and entrepreneurship from an early age working alongside her mother selling at local craft fairs and shows. She broadened her outlook by travelling and living overseas in her young adulthood returning to Victoria where she entered the job market in the landscaping business where she was mentored by the owner of a local turf farm learning to run and operate a small business. This ignited her passion for business in the landscape industry and in 2012 Taewyn joined Chris and Colin in the initial stage of their business merger and has been a driving force behind the company's organization and operations since. Taewyn has a very active life outside of work that includes parenting two beautiful dogs.
Our three owners each bring their own unique strengths and perspectives in making Garden City Tree & Landscape LTD your leading landscape contractors in Greater Victoria.
Delivering Both a Landscape and a Lifestyle for Our Clients
Our work in the greater Victoria, British Columbia area as your complete tree and landscape experts has earned us a reputation for quality work with exceptional results. In addition to the stunning landscapes we provide, clients love working with us for the ease of our in-house solutions and our communication at every step of the way.
"Excellent quality. Excellent value. Professional, respectful and courteous. Personable. Prompt and timely. Outstanding work ethic. The mature cedar hedge surrounding my property needed a major reshaping, a significant pruning to repair previous cuts, and a careful trimming to restore a manicured appearance. Garden City Tree & Landscape Ltd. was able to deliver on all accounts. From the initial consultation and same day estimate from owner Chris, to the professional, knowledgeable, courteous, and skilled attention from the arborist team, I received top notch service and excellent value from Garden City Tree & Landscape Ltd. Upon arrival, the team outlined their work plan to help restore the health and appearance of the hedge and then kept me updated of their progress throughout the course of the job. They were very respectful of my property, incredibly hardworking and most helpful with recommending ways for me to care for the hedge until their next visit. Additionally, I ordered five yards of the company's kelp mulch. Same day delivery and excellent product quality."
-P.Keenan
"GCT&L is a pleasure to deal with. They are highly professional, care deeply about the environment we share and their arborist Chris is amazing to watch as he does his thing way up into the tree and it's branches. The crew, who has worked my property a couple of times always leaves the yard in better shape then when they arrive by cleaning up everything. From landscaping, tree servicing, consultations, to their magical garden mulch they are in 1st. place as the best company in their field on Vancouver Island. Give them a try, you will not be disappointed."
J.Steel, Victoria
"We have used Garden City for a few years now to maintain our irrigation system. Their technician, James, is very competent and a true pleasure to have around."
- P.Havlik
"Garden City is hands down the best tree service in the city. They took on our huge job with a high degree of professionalism. The team was friendly and informative. They also gave me the best quote."
- M.Cunningham
"Tree removal - great company and great bunch of staff. They did my job ahead of schedule and on budget. The team were great at communicating with me and polite and courteous when on site. Thank you!"
- M.Leslie,Saanich
"My mother recently enlisted Garden City Tree to help with her lawn care and so far has been very pleased with the service. The staff and team are very professional and friendly, and helpful in determining what work needed to be done. Highly recommended!"
- R. Bong, Saanich
"I can't say enough great things about Garden City Tree & Landscape. Every part of the process was dealt with professionally. The job was done on time and looks amazing! Thanks so much to Clo and her sidekick for making the outside of our showroom look as amazing as the inside!"
- R.Taylor, Saanich
"Garden City was fantastic to deal with and the work provided was done expertly, quickly and cleanly at a great price. Had a very large cedar removed and was amazed at how proficiently and quickly it was taken down and cleanup done ! The crew were great !! Highly recommend this company !!"
- H. Birkett, Colwood
"So impressed with this team. Their work was impeccable and timely. Anytime we needed anything done or changed, they were extremely accommodating. A great group of people who were always respectful, in a good mood and genuinely cared about their work and product. I would recommend Garden City anytime."
- D. Mayo,Langord
To hear more about what sets us apart from other landscaping companies in the area, read real reviews from the customers with whom we've built relationships through our work.
Creating Greener Landscapes across the Greater Victoria Area
Victoria
View Our Victoria, BC Services!
Saanich
View Our Saanich, BC Services!
North Saanich
View Our North Saanich, BC Services!
Central Saanich
We Provide Services To The Central Saanich, BC Area!
Sidney
We Provide Services To The Sidney, BC Area!
Esquimalt
We Provide Services To The Esquimalt, BC Area!
Oak Bay
We Provide Services To The Oak Bay, BC Area!
View Royal
We Provide Services To The View Royal, BC Area!
Colwood
We Provide Services To The Colwood, BC Area!
Langford
We Provide Services To The Langford, BC Area!
Metchosin
We Provide Services To The Metchosin, BC Area!
Sooke
We Provide Services To The Sooke, BC Area!
Garden City Tree & Landscape LTD is proud to work with clients in our British Columbia waterfront neighborhoods. Our service area includes the following communities:
Victoria

View Royal

Saanich

Ten Mile Point,

Uvic

Cordova Bay

Central Saanich

North Saanich

Sidney

Western Communities;

Colwood,

Langford

Metchosin

Sooke
Experts at Garden City Tree & Landscape LTD
Passionate about landscaping? Come work for the leader in local landscaping companies in Victoria. At Garden City Tree & Landscape LTD, you'll have a job that challenges you to grow in all aspects of the industry and a team that treats you like family. We support our employees through competitive compensation, support for continuing education, health benefits and an ongoing commitment to helping you meet your professional goals. Check out our careers page today to view current opportunities with our team.
Great work requires great people!
Harness Our Team's Passion and Professionalism for Your Outdoors
The team at Garden City Tree & Landscape LTD is here for all your outdoor needs, from tree care to original landscape design to outdoor living spaces and more. Our sustainable practices and materials contribute to the overall health of our environment, while our industry expertise and creativity lead to landscapes that will delight and inspire you for years to come. Contact our team of landscape contractors to get more out of your outdoors today.