Refresh Your Property with Seasonal Cleanup from Victoria, BC's Leading Landscape Company
Prepare for Your Next Landscape Project or Start a New Season with a Clean Slate
Victoria, British Columbia landscapes are a valuable extension of beautiful homes. However, if your landscape is overgrown or covered with weeds, it can be completely unusable. Spring often brings plant and weed overgrowth, while fall brings piles of leaves and other debris. These issues can make your landscape unpleasant. Seasonal cleanup clears away seasonal issues, leaving you with a clean slate and safer navigation around your property.
Seasonal cleanup from Garden City Tree and Landscape can give you a clean space no matter what type of landscape clutter you're facing. Are you considering a property purchase, but don't know if the land will meet your needs? Are you ready for a landscape transformation or dreaming of an outdoor living space? Did the vegetation on your property simply get out of hand? Our team of experienced, certified landscape professionals and arborists use professional equipment to remove overgrowth and debris that threaten the health of your turf and take over your landscape. Your outdoor space is a great place to relax and unwind. Take back your outdoor lifestyle with cleanup services from Garden City.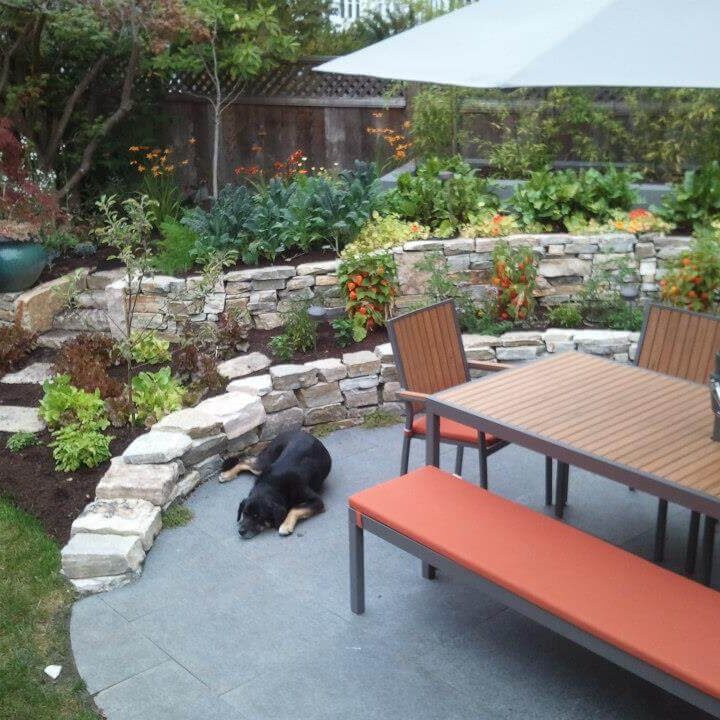 Delivering Both a Landscape and a Lifestyle for Our Clients
Our work in the greater Victoria, BC area as your complete tree services and landscape experts has earned us a reputation for quality work with exceptional results. In addition to the stunning landscapes we provide, clients love working with us for the ease of our in-house solutions and our communication at every step of the way.
"We have a cedar hedge 18' tall and pretty much out of control
It gives us a great privacy screen for our upper deck but was getting way too big. We considered what to do with it ,take it down and no privacy for 10/12 yrs? Not a good option but would get us some more garden space, it was some 16 to 18ft wide at the top A Monster hedge! 3 or 4 yrs ago We spoke to Chis Stansfield of Garden City and he came to look at the hedge and agreed it needed to stay for the privacy value, and proposed ways to manage and trim the hedge.
We now have a great hedge (thanks to Cris and co.) that is gradually getting into shape, takes a while, it is we think in the 80yr old range. He is a great arborist, practical and VERY knowledgeable, His people are fully qualified and insured, efficient and do a perfect job all the time, AND most importantly they like their job and company they work for. The trucks and gear arrive, job gets done in a professional and courteous manner, place left spotless and we end up with a GREAT looking Hedge.
Thank you and well done Garden City on our little bit of paradise.
We will be recommending them to our friends for sure!"
-M. Ives
"Great company! Quick with communication, clear quote, arrived on time, friendly staff and completed a great tree trimming for our large cedar. Excellent clean up too! Thanks Garden City Tree we will be recommending you and calling again."
A. McKenzie
"Insightful consultation on options we had and the work required. Hardworking crew did a great job! Would recommend."
- M. Hofmeyr
"Unfortunately we had a very large Garry Oak come down, estimated at over 400 yrs old. It was located in the back corner of our yard. The tree split in half and half fell to our neighbour's yard on the downhill side of our house and went through their roof. The other half fell toward the neighbours behind us and went through their roof. One of the halves fell across our pergola and hot tub. In coming down the root balls came out of the ground. This huge tree caused so much damage! Professionals visiting the scene found the reach and extent of this event shocking. It was a complicated job to have three properties involved.

Early in the process Garden City was chosen to handle tree removal for all three properties. Their skill and hard work saw them through the 6 days required to remove the tree pieces. Chris Stansfield, Cory and crew were determined, cautious, and brilliant in their problem-solving and dedication to the safe removal of the large, heavy, and dense Garry Oak pieces. Through it all they maintained good communication with the home owners and they were vey good about answering questions and acknowledging concerns. Definitely five stars for Garden City!"
- K. Fedora
"Excellent service. Very quick response. Efficient and friendly. Highly recommend."
- T. Hait
"Just had this company reshape and trim our cedar hedge, damaged by the snow and they topped and shaped another small group of cedars. Cory and Dan did a great job, looks perfect. They were on time, friendly, professional and cleaned up perfectly. The estimator, Todd, was also prompt, very knowledgeable and friendly. We have no hesitation recommending this company and we will have them back for follow up as needed."
- D. Smith
"I hired this firm to do an extensive landscaping job. What had once been beautiful gardens and lawns had been neglected for many years and were in terrible shape. They came in and completely transformed the wasteland into a beautiful landscape. Dead and dying trees were removed and other trimmed to allow a view of the water. A new feature was a gravelled area near the waterfront for enjoying life; a table and chairs made this perfect for relaxing. An existing flower bed was rejuvenated with the removal of blackberries and other weeds and a reduction in size. New plantings made it come alive. Sod was laid and the lawn areas are now lush and green, replacing the weed-filled dead lawn. The finale of this job was the replacing of dangerous old steps to the beach. This project took some time, but communication was great throughout. I always knew what was going on and, if I had any questions, they were answered the same day. I am extremely pleased with the work that this firm has done for me and highly recommend them to anyone who needs works done. The quality of work is second to none and their workers are friendly and efficient."
- H. Edwards
To hear more about what sets us apart from other landscaping companies in the area, read real reviews from the customers with whom we've built relationships through our work.
Seasonal Cleanup Helps You Start the Season Right
Our team of experienced professionals has 350 years of combined landscaping experience. It's our passion to create and maintain local landscapes that provide our customers with a beautiful outdoor space and the community with a healthy environment. When you choose Garden City to take care of your seasonal cleanup project in Victoria, BC, you can count on the following benefits:
Certified teams and company-owned equipment for the completion of your entire landscape project so there's no need for you to deal with the hassle and downtime of dealing with multiple contractors

A professional team that respects your property by leaving no damage or mess behind

You're assigned a project manager for simplified communication and a consistent stream of information about your project

Sustainable practices that improve the health of your landscape and give back to the environment
Maintained by Garden City
Seasonal cleanup provides you with a fresh beginning to enhance your outdoor lifestyle. Gather inspiration by browsing some of our completed landscape projects on our portfolio page.
Our Efficient Process and In-House Equipment get the Job Done Fast
Our clients' satisfaction is our first priority, which is why our process takes your needs into account at every stage. When you work with Garden City Tree & Landscape LTD, you can depend on timely and transparent communication with a knowledgeable, courteous team for exceptional landscape results.

When you reach out to our team, we'll follow up with a call to learn more about your project and schedule an on-site assessment.

We'll visit your property to discuss your landscape goals and determine a budget for your project. You'll have the opportunity to share any unique considerations and discuss possible options to meet your needs.

We'll create a customized design for your property that provides structured natural beauty and aligns with your outdoor goals.

We'll do a formal presentation of our plan and estimate. You'll be able to share any questions or concerns, and we'll make sure you're completely satisfied with our proposal before we move forward with any work on your property.

Our uniformed team will show up on time with our own equipment and top quality materials. You'll have a dedicated project manager to serve as point of contact for clear communication from start to finish.

We have certified arborists, irrigation specialists, and other experts in-house to ensure we're properly handling trees, irrigation systems and more, saving you from any costly penalties.

We'll take care of any necessary cleanup and leave you with a landscape that exceeds your expectations and adds to your property's aesthetic and functional value for years to come
Ready to experience our expert landscaping services and professional customer care for yourself? Contact our team to get started and discover what sets us apart from the competition.
More than a Clean Up Team
Garden City Tree and Landscape is a complete in-house operation. With experienced teams of certified landscapers, arborists, and irrigation professionals, we're prepared to take care of all your landscaping projects. For many residents, seasonal clean up is a beginning that encourages more time spent outdoors. Whether you've recently purchased a property, or are interested in enhancing your existing outdoor space, our team can help. Consider these services to improve your newly refreshed landscape.
Landscape Design and Installation: Transform your landscape to improve function, add plants and trees, or increase comfort with customized landscape design and installation services.
Irrigation: Spending time outdoors isn't pleasant when your lush green lawn turns brown and crispy. Older irrigation systems are no match for drier summers with little rain. Our team can design and install a custom irrigation system designed to target the unique issues on your property.
Creating Greener Landscapes across the Greater Victoria Area
Victoria
View Our Victoria, BC Services!
Saanich
View Our Saanich, BC Services!
North Saanich
View Our North Saanich, BC Services!
Central Saanich
We Provide Services To The Central Saanich, BC Area!
Sidney
We Provide Services To The Sidney, BC Area!
Esquimalt
We Provide Services To The Esquimalt, BC Area!
Oak Bay
We Provide Services To The Oak Bay, BC Area!
View Royal
We Provide Services To The View Royal, BC Area!
Colwood
We Provide Services To The Colwood, BC Area!
Langford
We Provide Services To The Langford, BC Area!
Metchosin
We Provide Services To The Metchosin, BC Area!
Sooke
We Provide Services To The Sooke, BC Area!
Garden City Tree & Landscape LTD is proud to work with clients in our British Columbia waterfront neighborhoods. Our service area includes the following communities:
Experts at Garden City Tree & Landscape LTD
Passionate about landscaping? Come work for the leader in local landscaping companies in Victoria. At Garden City Tree & Landscape LTD, you'll have a job that challenges you to grow in all aspects of the industry and a team that treats you like family. We support our employees through competitive compensation, support for continuing education, health benefits and an ongoing commitment to helping you meet your professional goals. Check out our careers page today to view current opportunities with our team.
Great work requires great people!
Choose Garden City for Complete and Thorough Seasonal Cleanup
At Garden City, we don't just enjoy creating beautiful landscapes. We love improving the health of local landscapes so they can become more beautiful. Our sustainable practices provide you with seasonal services that make you a proud sponsor of environmental health. To learn more about how seasonal cleanup can improve the health of your property, get in touch with our landscape experts today.